Felix Mendelssohn Sheet Music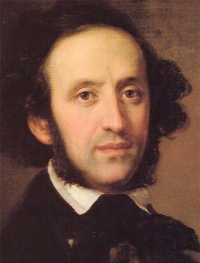 Jakob Ludwig Felix Mendelssohn Bartholdy, born, and generally known in English-speaking countries, as Felix Mendelssohn (February 3, 1809 – November 4, 1847) was a German composer, pianist, organist and conductor of the early Romantic period.
The grandson of the philosopher Moses Mendelssohn, he was born into a notable Jewish family, although he himself was brought up initially without religion, and later as a Lutheran. He was recognized early as a musical prodigy, but his parents were cautious and did not seek to capitalise on his abilities. Indeed his father was disinclined to allow Felix to follow a musical career until it became clear that he intended to seriously dedicate himself to it.
Early success in Germany was followed by travel throughout Europe; Mendelssohn was particularly well received in England as a composer, conductor and soloist, and his ten visits there, during which many of his major works were premiered, form an important part of his adult career. His essentially conservative musical tastes however set him apart from many of his more adventurous musical contemporaries such as Liszt, Wagner and Berlioz. The Conservatory he founded at Leipzig became a bastion of this anti-radical outlook.
Mendelssohn's work includes symphonies, concerti, oratorios, piano and chamber music. He also had an important role in the revival of interest in the music of Johann Sebastian Bach. After a long period of relative denigration due to changing musical tastes and antisemitism in the late 19th and early 20th centuries, his creative originality is now being recognized and re-evaluated. He is now among the most popular composers of the Romantic era.
Felix Mendelssohn - Denn er hat seinen Engeln befohlen Piano Sheet Music
Advertisement
Advertisement

Please right click on the download button and select "Save Target As" or "Save Link As" to download



You can share this sheet on your Twitter or Facebook account to let your friends know too!


(162.84KB)





Other music sheets of Felix Mendelssohn